Discover the Beauty of YOur Outdoors
Farmington Hills patio Company
Designing and building your new patio
Patios are a popular feature in outdoor living spaces, providing a functional and attractive area for relaxing, dining, and entertaining. At White Maple Landscaping, we specialize in designing and installing custom patios using high-quality hardscape pavers.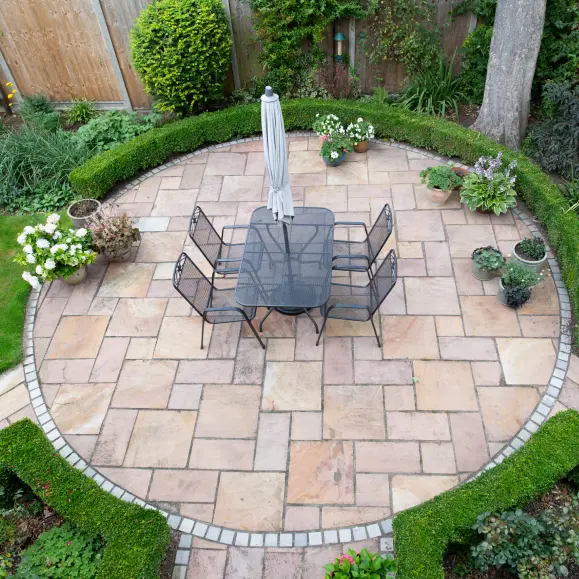 Adding a concrete patio to your backyard
There are many benefits to adding a patio to your outdoor living space, including:
Increased living space: A patio provides an additional living space that can be used for a variety of purposes, from dining and entertaining to relaxing and enjoying the outdoors.
Improved functionality: A patio can be designed to meet your specific needs and functional requirements, whether you need a space for outdoor cooking or a place for kids to play.
Enhanced aesthetics: A well-designed patio can enhance the beauty of your outdoor space, providing an attractive focal point that complements your home and landscaping.
Increased home value: Adding a patio can increase the value of your home, making it a smart investment for homeowners who are looking to increase the resale value of their property.
At White Maple Landscaping, we take a collaborative approach to patio design, working closely with our clients to create a custom patio that meets their unique needs and preferences. Our experienced team of landscapers will work with you to understand your design preferences, functional requirements, and budget, and will create a design that exceeds your expectations.
We offer a wide range of hardscape pavers to choose from, including natural stone, brick, and concrete pavers, in a variety of colors, sizes, and textures. Our team will help you choose the perfect pavers for your patio, based on your aesthetic preferences, functional requirements, and budget.
Patio Installation Process
Once we have designed your custom patio, our team will begin the installation process. Our skilled landscapers will ensure that every aspect of the installation is handled with care and precision, from site preparation to the laying of the pavers to the finishing touches.
We take pride in our attention to detail and our commitment to quality, and we strive to ensure that every patio we install is built to last. Our team will also ensure that your new patio is integrated seamlessly with your existing retaining walls and landscaping, creating a cohesive and beautiful outdoor living space.
At White Maple Landscaping, we understand the importance of maintaining your patio to ensure its longevity and beauty. That's why we offer maintenance and repair services for all of our hardscaping projects, including patios.
Our team can provide regular maintenance services, such as power washing, sealing, and re-leveling, to keep your patio looking its best year-round. We can also handle any necessary repairs, such as cracked or damaged pavers, to ensure that your patio remains functional and attractive for years to come.
Choosing the Right Hardscape Pavers for Your Patio Project
If you're looking to add a custom patio to your outdoor living space, White Maple Landscaping is here to help. Our experienced team of landscapers will work with you to design and install a beautiful and functional patio using high-quality hardscape pavers. Contact us today to schedule a consultation and learn more about our hardscaping services.